DittoDomains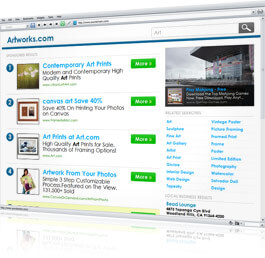 Are you waiting for someone to buy your domain? Or are you still in the process of developing your website? In any case, you can earn additional revenue from your domains even if they're not active!
By registering with our services and parking your domains on our servers for free, we will display relevant ads on your parked domains. Enabling you to earn revenue whenever visitors click on the ads at no cost to you. Publishers receive a 60/40 revenue share simply by signing up with DittoDomains!
Why Choose DittoDomains?
We don't just display random ads on your properties; we make sure that visitors see ads that are relevant to your domain name. We provide an automatic optimization process that tailors the ads to each user's preferences and location.
Select From a Number of Dynamic Templates
Your domain is unique, so why display a generic and bland template? Show off your site's personality with our numerous designs and layouts. We have templates that are appropriate for just about any website. Browse through our wide image gallery to incorporate relevant pictures on your site.
Register with DittoDomains and start earning extra money!
AdMedia Services & Resources
re-targeting
||
buy online advertising
||
in text advertising
||
online advertising market
||
pay per click banners
||
online advertising sales
||
internet advertising solutions
||
contextual ads
||
cpa cost per action
||
cpv advertising