Interstitial Ads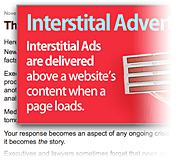 What are Interstitial Ads?
If you have the traffic, we have the advertisers. Advertisers are looking for audiences who are tuned in. Chances are you have encountered an Interstitial Advertisement at some point in your life. It happens in the seconds between when you click on a link and when you actually view a website homepage. A targeted Ad is placed while you wait for your page to load, usually users have the option of clicking "skip this advertisement" and can continue to the homepage; however, by this time they have already viewed the ad you wanted them to see. When a user is waiting to enter a website, their attention is usually focused on the screen. This is a great time to send a user a targeted advertisement, because they are more likely to soak in the advertising message. If a user is focused and tuned in the chances of a successful conversion increases.
How Interstitial Ads Benefit You
Advertisers will pay more for affiliates who can provide good quality traffic and high conversion rates. If you incorporate Interstitial Ads into your website, you are more likely to score conversions for your advertisers and in turn earn more money. AdMedia also provides highly targeted advertisements so that your website will produce a higher rate of conversions. The best part is that Interstitial Ads appear while your page is loading, so website browsers aren't bothered by the interference.
Profit while your webpage loads, Incorporate AdMedia Interstitial Ads today!