Display Banners - CPC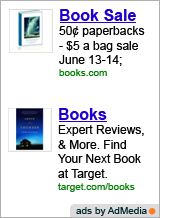 AdMedia's Display Banners are created with Graphical banner so they convey a professional look and feel. The design utilized is cutting edge, so that your website image is never altered. Our Banner ads are always relevant to the content on your site, so you will always earn high CPM rates.
Text Banners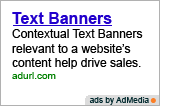 They say a picture is worth a thousand words. But when you only need a few words to get your message across, ditch the image and stick to text. The results are in, and text banners have been well received by consumers. Website browsers like to read a simple and direct message. At AdMedia we can utilize your text, or come up with a catchy slogan that fits your campaign. We avoid high resolution colors so that our text banners load quickly, allowing consumers to view and click on your ads.
Graphical Banner Ads
If you haven't seen the results you desire, it's time to upgrade to Graphical banner. The Online advertising world changes every day. With AdMedia Graphical banner ads you can bring your advertising campaign up to speed. Industry leading graphics and technology result in convincing and converting ad campaigns. Graphical banner allows consumers to interact with ads. Turn visitors into paying customers with Graphical banner.