How "Thank You" Email Retargeting Works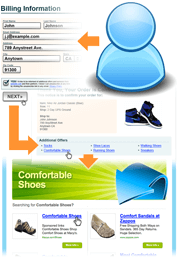 When a user purchases, signs up, fills out a form, or makes a corresponding action requiring entering in one's email address, the user is sent a follow up email confirmation or receipt for the product or service from the online retailer.
Within the confirmation email, the user is shown multiple related keywords for products or services they would be interested to choose from.
Publishers have the opportunity to place hotspot tags associated with the product/service acquired.
Once the user clicks on one of the "hotspots" shown, a new browser session will open and display sponsored search results.
Displaying multiple sponsored results based on the keyword of the hotspot that was clicked, provides the consumer with multiple sponsored listings to compare and make additional purchases!
No Conversions Neccessary
Get paid on each sponsored result click, no conversions are neccessary.
Retarget Customers
Publishers have an extra opportunity to offer related products or services.
Why Email Retarget Existing Users?
Retargeted users are highly interested, and qualified to make additional online purchases based on their previous call to actions and submissions.