How "Thank You" Page Offers Work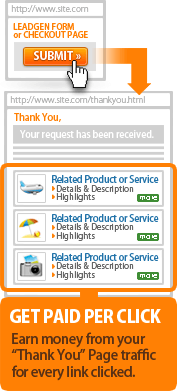 First, place a Thank You Page Offer line of code on your Lead Generation Form Page, or Checkout Page.
Next, your website visitors click through your LeadGen form or finish a transaction through your Checkout Page and are directed to a confirmation Thank You Page.
Lastly, visitors click on an ad and you get paid! It's as simple as that!
Thank You Page Offers pay more
Rather than paying per quote or lead, Thank You Page Offer publishers are paid per valid consumer click.
Easy to track your campaign
We have established tools that display your campaign results online. Results are updated daily, so you always know how well your campaign is doing.
Save Time
You never have to spend time finding relevant offers. Our targeting technology generates relevant advertisements every time.