Text Banners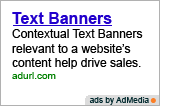 They say a picture is worth a thousand words. But when you only need a few words to get your message across, ditch the image and stick to text. The results are in, and text banners have been well received by consumers. Website browsers like to read a simple and direct message. At AdMedia we can utilize your text, or come up with a catchy slogan that fits your campaign. We avoid high resolution colors so that our text banners load quickly, allowing consumers to view and click on your ads.
AdMedia Text Banner Ads give your page a look and feel different from your competitors. With all the new technological advances, most advertisers opt for Graphical banner Ads. Don't lose sight of what you want your page to represent. Basic Text banner ads allow you to advertise, without distracting or losing, your website users. Protect your website image and maintain the look and feel your comfortable with, while making extra revenue.
Sign up for AdMedia Text Banner Ads today!