404Bucks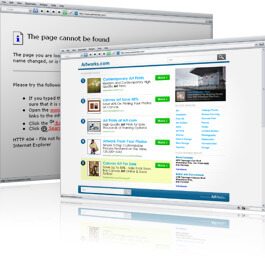 Users encounter 404 Pages when they click on dead or broken links. While some 404 Pages automatically redirect to the homepage, others simply display a generic and unattractive page that informs users that they've encountered an error.
These error pages tell your visitors that they won't find what they're looking for on your site. 404Bucks prevents this by displaying appealing and targeted ads on your missing pages. This way, when users click on a broken link, they'll find ads that are relevant to their interests, instead of a dead end.
Turn Error Pages into Earning Opportunities
You'll get paid whenever a visitor clicks on an ad. Our sophisticated algorithm factors in relevant keywords together with the page's original theme to ensure that the ads that show up on your 404 error pages are in line with what your visitors are looking for.
Choose From Numerous Designs and Templates
We understand the importance of aesthetics to publishers, which is why we have tons of available templates that you can choose from. Select from numerous layouts and designs to ensure that your 404 pages still blend in perfectly with the look and feel of your website.
Sign up for AdMedia's 404Bucks today and increase your revenue!
AdMedia Services & Resources
internet online marketing advertising business
||
affiliate advertising
||
what is retargeting
||
buy online advertising
||
cost of online advertising
||
in text advertising
||
xml search feed
||
ad-media marketing
||
interstitial ads