Thank You Email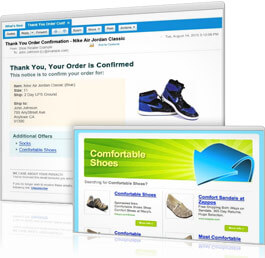 You probably keep your users interested in your site through email greetings, receipts, or newsletters. Why not spice things up and earn a generous commission in the process?
AdMedia's ThankYouEmails utilize a 4-step traffic filter that Advertisers can't resist. They pay more for premium quality clicks, which translates into a higher revenue share for you.
What's in it for Publishers?
AdMedia's ThankYouEmails are geared towards Advertisers, but that doesn't mean Publishers get stuck holding the bag. First off, you earn 3-5 times the typical amount of revenue per click! Our Advertisers are willing to pay extra to purchase better traffic, and you reap the benefits as a result. Secondly, we give you complete creative control over the fully customizable ads that display.
You have the ability to choose the color along with the size of the ads you're sharing. Plus, the ads include live image rotation! Your users won't get bored of seeing the same pictures again and again, and our optimization algorithm eliminates the icons that people ignore. Alternatively, you may upload your own preferred creatives at any time.
Simple Maintenance System
You'll be able to perform your mass email drops using our incredibly easy bucket system. Browse through over 2,000 categories and you're sure to find several that apply to your particular niche. Once you generate the proper code, you're ready to go! You may visit the same database to manage your account manually, although updates occur without any prompting at all.
As always, your clients reserve the right to opt out in several ways. They might want to delete the emails without opening them, click the opt out link within the email, or get in touch with a specific Advertiser through the contact information provided.
AdMedia Services & Resources
online advertising costs
||
re-targeting
||
pay per click banners
||
online radio advertising
||
contextual ads
||
online advertising network
||
online video advertising
||
online advertising ppc