AdMobile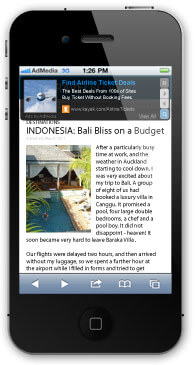 Do you have a portable-friendly website or a special mobile version? If so, then you need to work with an advertising agency that furnishes ads for this particular setting.
Why Monetize a Portable Site?
Websites must display correctly on portable media devices because users are no longer sitting around; they're browsing everywhere they go! Your site already grabs their attention; why not make some extra money through advertising? The AdMobile network consists of thousands of established brands with enticing offers that your readers will find irresistible.
AdMobile Bonuses
Earning more money is always nice, but joining the AdMobile network carries other advantages. AdMobile offers Publishers full customization when it comes to the ads that appear on your site. You pick the size, color, placement, and level of transparency. That way you don't have to modify your layout to accommodate your new marketing venture.
AdMobile ads support everything from ordinary text to rich media displays. These ads are chosen specifically for your site by the AdMedia algorithm, so you don't have to worry about inappropriate content. The widgets also allow users to perform secondary searches without leaving your site, which decreases your bounce rate.
AdMedia Services & Resources
online banner advertising
||
effective online advertising
||
xml search feed
||
online advertising rate
||
in text advertising
||
contextual affiliate
||
online advertising market
||
cpa cost per action
||
overlay ads
||
cpa affiliate programs