Intextual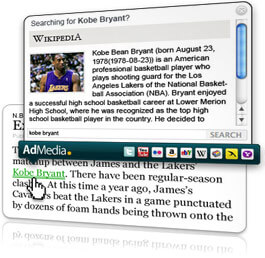 Making the transition from an ad-free site to one hosting affiliate banners often upsets the user base. Instead of loud creatives, opt for a discreet platform with Intextual.com!
What is In-text Advertising?
In-text advertising is a monetization method that has taken the affiliate marketing world by storm. As long as you've got content, we've got a commission check with your name on it! Intextual simply scans your pages, and then selects ads that go along with the subject matter. Users will only see the ads when they hover over double hyperlinked keywords that are impossible to miss. Even if someone accidentally engages an In-text ad, the widget will disappear after a few seconds without interaction or the user can simply "X" out manually.
In-text requires no start up fees, so you don't need to pay to play! You also don't need to modify your existing pages in any way. You get to keep your layout and there's nothing to disrupt the site's overall design. In-text lets you profit from your entire collection of content; you'll be profiting off of pages you don't even remember adding.
Join the Intextual Network!
Intextual is powered by AdMedia, an online network that delivers 4 billion impressions per month to thousands of reputable advertisers. Every time a user clicks on a pre-selected ad, you'll earn a 60/40 share of the revenue! Since Publishers often update their sites, our algorithm scans pages in real time to accommodate these changes. The platform works with regular sites as well as popular blogging channels, such as WordPress, Blogger, Drupal, and Joomla.
AdMedia Services & Resources
cpa affiliate programs
||
online advertising costs
||
buy online advertising
||
online advertising
||
interstitial ads
||
re-targeting
||
local online advertising
||
in text advertising