AdMobile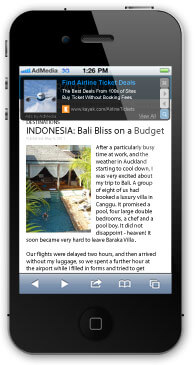 Stationary customers are becoming a thing of the past. In order to keep pace with on-the-go consumers, your ads must be compatible with all available portable platforms.
Why Do I Need Portable-friendly Ads?
Smartphone and tablet users typically come from higher income groups, which make them especially attractive to marketers. But these tech savvy individuals won't respond to ads that don't display correctly. AdMobile makes your creatives adapt to the portable environment, so you'll never miss an opportunity for engagement.
AdMobile works with multiple creative formats, including plain text, text with images, and rich media. No matter which arrangement you choose, rest assured that AdMobile will deliver highly targeted traffic that generates conversions.
The AdMobile Network
The AdMobile network, powered by AdMedia, consists of thousands of premium Publishers and verticals. That means that your ads will never get stuck on pages that have no connection to your products or services. Plus, you'll be able to account for every click via our comprehensive tracking system.
AdMedia Services & Resources
buy online advertising
||
local online advertising
||
text advertising
||
contextual affiliate
||
online advertising rates
||
online advertising market
||
ad-media marketing
||
ads solutions
||
cost of online advertising
||
precision marketing