Remarketing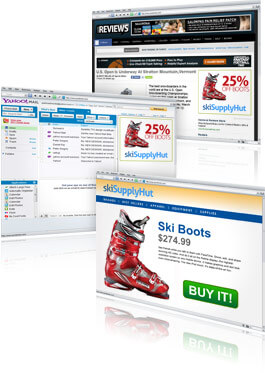 Remarketing affirms the credibility of your brand by letting customers see your ads, even after leaving your website. This technique can actually increase your conversion rates by up to 125%!
So many people visit your site without completing a purchase we call these consumers 'window shoppers'. Bring these lost potential customers back with the help of our Remarketing platform.
Why Choose Remarketing.com?
Since our remarketing pixel is capable of locating 98% of the web, we are able to display your ads on your customers' favorite websites, anywhere they go. Repeatedly seeing your ads builds confidence in your company, your brand, and in turn leads to the chances of making that once lost customer convert!
Reel In Those Customers
Our Remarketing platform implements a Cost Per Action (CPA) model that only targets users who have previously visited your website. This ensures that your ads are seen by individuals who have already expressed interest in your brand, so you don't waste money on unwanted traffic.
AdMedia Services & Resources
online advertising networks
||
cost of online advertising
||
interstitial ads
||
text advertising
||
what is retargeting
||
online advertising sales
||
local pages
||
contextual affiliate