MidRollStream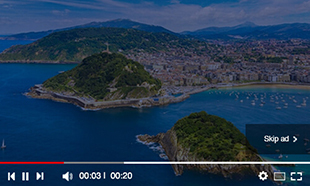 Getting your message to prospective clients is easy with MidRollStream. The perfect opportunity to get the users to engage with your advertisement lies within MidRollStream!
The MidRollStream Advantage
With AdMedia's MidRollStream solution, advertisers will have the perfect opportunity to flash their message at the most opportune time, ensuring that their advertisement gets viewed by possible clients. The concept of MidRollStream is quite simple: to keep focus on the area already being viewed. What does that mean? Let us tell you.
We strategically place your advertisement video in the middle of an already playing video stream. Essentially, our MidRollStream product will pause the already playing video, start your advertisement and continue the original video once the advertisement has completed. With this concept, the focus stays on the video, ensuring the best possible opportunity for your advertisement or message to be viewed by many.
Start the MidRollStream Experience
Get started today with MidRollStream powered by AdMedia.com! Earn potential clients through our strategic advertisement placements. Our incredible service team will help in case of any needs and will help get your advertisement in MidRollStream going in no time.
Choosing MidRollStream as your means of advertisement is the smart move for all of your advertisingneeds. What are you waiting for? For a strategy so simple and effective, get started now and let MidRollStream solutions bring you business with the best possible results on the web!
AdMedia Services & Resources
online advertising rates
||
ad-media marketing
||
online radio advertising
||
cpa cost per action
||
re-targeting
||
xml search feed
||
in text advertising
||
precision marketing
||
ads publishers
||
internet online marketing advertising business